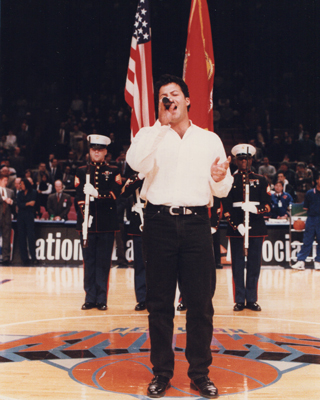 For a few uneventful years, I was signed to a small dance label based in NYC. I was assigned an up-and-coming songwriter, Kara DioGuardi (PINK, Christina Aguilera, Kelly Clarkson), to help me pen a Pop single in hopes of the label breaking into a new market. The result was the single 'Take Me On' which was released to little fanfare and did not find an audience. However, a remix version was placed on a popular Dance compilation.
Promotion for the single was thin as the record label had a limited budget. One promotional effort that my team (my wife and I) were able to pull off, ironically, had nothing to do with 'Take Me On', the record company or Pop music. I submitted a demo to our contact at Madison Square Garden who then gave me the opportunity to sing the Star Spangled Banner at a Knicks/Lakers game. I was truly humbled, honored and excited to perform it. I think the record label was pleased also as I requested to be introduced as "Strictly Rhythm recording artist, John Anthony."
In the days leading up to the performance, one consideration was how to approach the song. It was to be performed a cappella so there wasn't an arrangement to worry about and I could start on any note and just go with it. The only problem with that was, if I started too high, " ..and the rocket's red glare!" would of sent NYC dogs howling and a thrown tomato would have stained my white shirt. Another thought was, 'Do I make it my own? Give Whitney's version a try?" Neither. I would play it straight and just honor the song and the thousands standing with their hands over their hearts.
On December 12, 1995, coinciding with Frank Sinatra's birthday, I arrived at The Garden, I was led into the green room which was being occupied by Knicks broadcasters Marv Albert and John Andariese. They were polite but Marv seemed a little annoyed by my presence as they were preparing for the game. Shortly after, I did a brief sound check and it was back to the green room.
The big concern I had that night, of course, was remembering the lyrics. Even though I had sung it a million times, it was the chance of being overwhelmed and freezing up that consumed my thoughts.  After quietly humming  the song over and over, my heart racing and butterflies taking flight, it was show time.
Now standing in the tunnel that led to the court, I stood behind a color guard and boxer Oscar De La Hoya, who was scheduled to fight a few days later. The color guard was first out, marching to a spot just behind the Knicks logo. Oscar followed and waved to the crowd before taking his courtside seat. When the familiar Knicks announcer's introduced me, my nerves vanished and I proudly walked to center court and gave my best effort to honor our country.